The Smart Wi-Fi Video Doorbell can be operated using a smartphone or tablet.
To set up your smart phone or tablet;
Download the Cocoon Smart Doorbell application by using a QR code reader application and scanning the QR code or by searching in the App Store or Play Store for 'Cocoon Smart Doorbell'.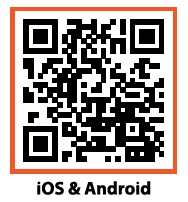 Before pairing the Doorbell with your smartphone or tablet, short press the Doorbell button once, quickly followed by a long press of the reset button on the back of the Doorbell.
When done correctly, the indicator light will flash red. This prepares the Doorbell for pairing.
When first opening the app, it will take you through a setup wizard – this will show you how to set up the app and the Doorbell for remote viewing.
See video for reference.