Guide To Cloud Storage
Cloud storage is available on the Cocoon Connect Indoor Camera (in addition to using the cameras internal Micro SD Card option, up to 128GB) to store recordings.
Cloud storage allows the camera to upload footage to the 'cloud' for records that cannot be destroyed or stolen. To define cloud computing, this is the practice of using a network of remote servers hosted on the Internet to store, manage, and process data.
The cloud storage option is shown on the bottom of the Indoor Camera interface with the option to purchase.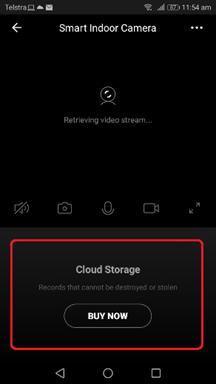 Once 'Buy Now' is selected you are given the option to Subscribe to Video Cloud Storage service.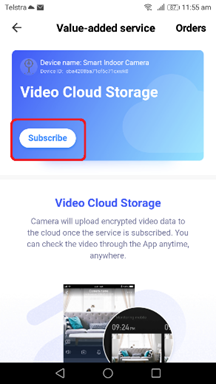 The Camera will upload encrypted video data to the cloud once the service is subscribed. You can check the video through the App anytime and anywhere with an internet connection.
Even if your camera is stolen or destroyed, you can still check the video from the cloud.
The AES encrypted video data is transferred through encrypted TLS channel. We take your privacy seriously (see the Cocoon Connect Encryption Article).
You can always watch the cloud video from different mobile devices.
There are five Cloud Storage options to choose from (all prices are in USD):
Trial ($0.01)
Try the service for 30 days. You can check video clips for the past 14 days
Basic Plan (Monthly) ($4.49)
Event recording for the past 14 days. This service is valid for 30 days
Premium Plan (Monthly) ($5.99)
Event recording for the past 30 days. This service is valid for 30 days
Premium Plan (Annually) ($59.99)
Event recording for the past 30 days. This service is valid for 365 days
Payment method is via Paypal.
Once Cloud Storage is purchased, the Smart Indoor Camera will begin to send recording of video recordings triggered by motion in front of the camera to the cloud for storage and future review.
The day's recording can be viewed by selecting the time of the recording which will then be loaded and played back on the Cocoon Connect app.
Previous days can then be selected by scrolling back through the calendar up to 14 or 30 days depending on the plan purchased.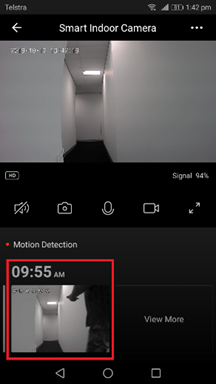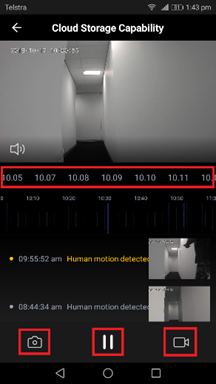 These recording can then be, paused, recorded on your phone by the record button, or a screenshot be taken by the camera button. Once these are saved on your phone they can be shared to other trusted recipients.
NOTE: When purchasing Cloud Storage via Paypal or Credit Card – the company Tuya Global Inc. will appear on your statement.