For Cocoon DVR Systems HE150242 / HE160233 / HE160232 / HE180040 (12/2018 only)
Before connection ensure you have:
Your DVR connected to a screen or monitor (not compatible with PC or laptop)
Your DVR connected to your modem directly via a LAN cable
An 'OK' network connection on your DVR (test this by selecting Main Menu - Setup - Network - Test)
Your Device ID handy (located in the Main Menu - Information - System)
To connect your DVR to the Cocoon DVR application please follow the below steps:
Register for an account
Select the 'Register' button at the bottom of the screen to create your account
Note: User name must be unique, we recommend using your email address
Log into your account
Once you have an account created log into the application
Select the icon
Select 'device manager' from the menu bar


Select the icon
Name your DVR system
Under 'Name' you can name your system anything your like. This could be Home/Work/Office or simply leave this as 'Device 1'.
Input your Device ID
Select the QR Code Symbol to scan your QR code directly from your screen.
Note: Your Device ID can only be located via the Main Menu on a screen or monitor
Main Menu - Information - System
Scan your Device ID QR code on screen
Ensure you're scanning the far right Device ID/UID

Ensure your Device ID is 'admin'
This must be in lowercase
Enter your DVR Main Menu password
This is your password set for the main menu of the DVR when connected to a screen or monitor
If you do not know this password see here
Select the number of cameras compatible with your system
Press 'Add' to complete the adding of your device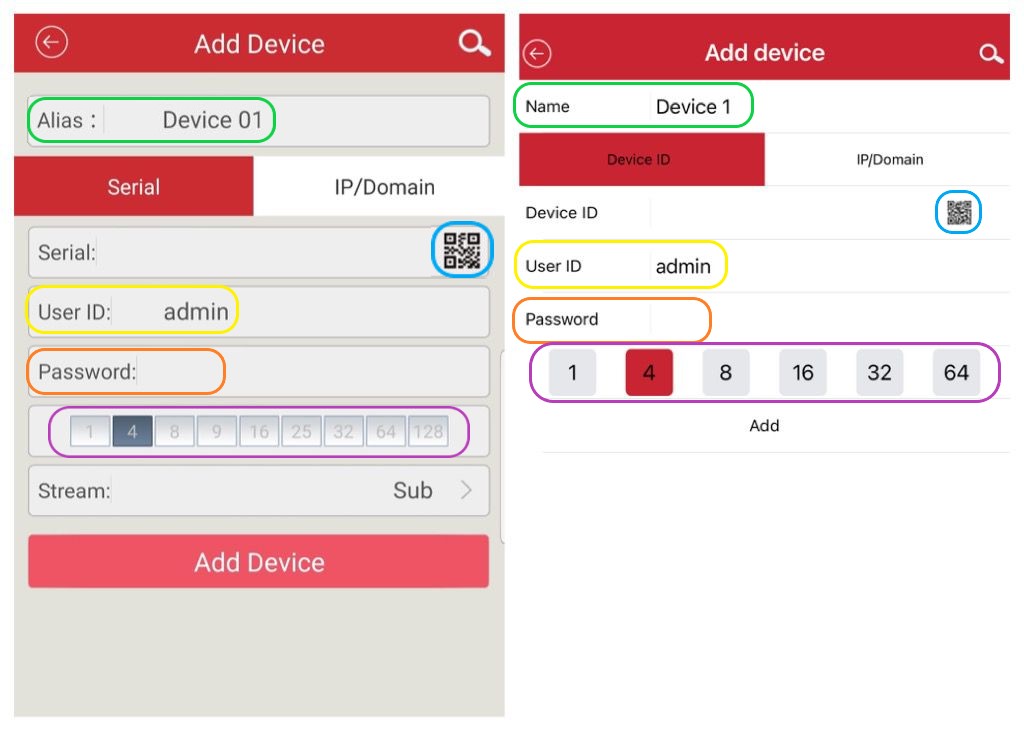 Note: Application varies from Android to iOS.
To stream your DVR on the Cocoon DVR application please follow the below steps:
Select the icon
Select 'Live Preview' from the menu bar


Select the camera icon
Select the tick icon on the right hand side
This will change from grey to red when selected
Select the Start preview button to begin streaming