Below are the steps needed to upgrade the memory allocation for the Cocoon AMP.
Download
Download the firmware update packages by clicking the following links:
winplus-HE115020-4.2-8188-20150320_3g.img
Micro SD Card
Check that you have a Micro SD card that is 1GB or greater. You will also require a suitable card reader or adapter to connect the Micro SD card to your computer's USB port.
Insert
Insert the Micro SD card into the adapter, then insert the adapter into your computer.
Unzip
Phoenix Card is an executable application that requires unzipping before use. Unzip 'PhoenixCard_V3.08.zip' using an unzipping program on your computer.
Open Phoenix Card
Double click on 'PhoenixCard.exe' in folder 'PhoenixCard_V3.08' to launch the Card Upgrade tool.
Select DiskCheck
You will be greeted with the screen below. Select 'DiscCkeck' to scan for available drives. Select drive that your Micro SD Card is connected to.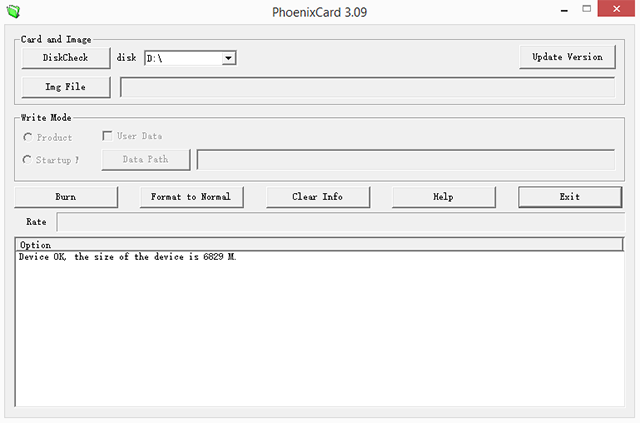 Select Img File
Select 'Img File' and navigate to the 'winplus-HE115020-4.2-8188-20150320_3g.img'. Highlight the update file and select 'OK'
Select Burn
Ensure write mode is 'Product'. Select 'Burn' and wait for the Micro SD Card to be completely formatted.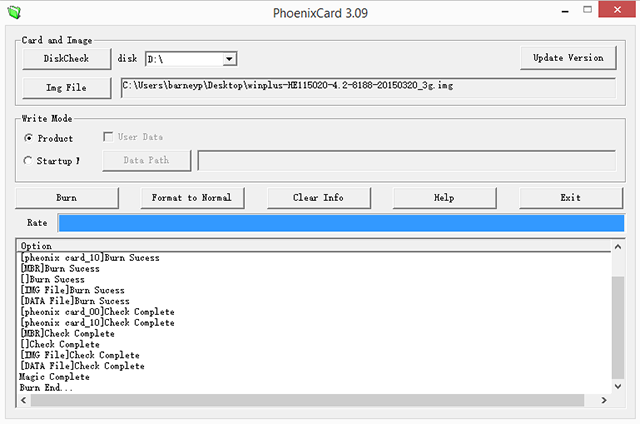 Wait until 'Burn End'
Wait until the 'winplus-HE115020-4.2-8188-20150320_3g.img' has been successfully burned onto the Micro SD card before removing. This is indicated by 'Burn End…' shown on the Phoenix Card program.
Back up
Before updating, backup any videos, music or images that are stored on your Cocoon AMP TV.
Note: Winplus is not be responsible for any loss of data when performing a system update.
Unplug Device
Unplug the power adaptor from mains power to ensure that your Cocoon AMP TV is completely turned off.
Insert Micro SD Card
Insert the Micro SD Card into the Micro SD Card slot with label facing down and gold contacts facing up.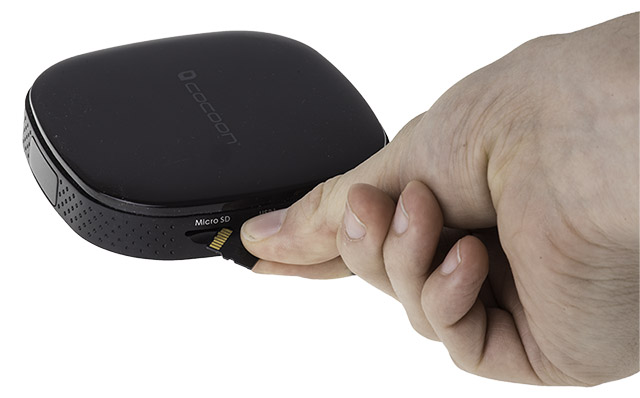 Power On
Insert the power adapter into the media player. The media player will power on and begin the update. If connected to a TV, you will see an update bar on the screen.
Wait
Do not unplug the power adapter until the Cocoon AMP TV has completed upgrading and automatically shut itself off (Light turns from Flashing blue to off).
Unplug Device
Unplug the power adapter.
Remove Micro SD Card
Now that the upgrade is complete, remove the Micro SD Card.
Power On
Plug the power adapter back in. The media player will automatically power on.