Setting up a Scene on Cocoon Connect
One of the most useful features with the Cocoon Connect App is creating Scenes with your devices
Scenes are "One Click Triggers" that can control one or multiple devices to perform a set group of functions.
For example, this could be a "Lights On" scene to turn on all your smart lights on when you get home, or an "Intruder Alert" to activate your siren and lights.
Scenes can be created and used via the Cocoon Connect application interface. Once created they can then be activated by voice commands via Google Home or Alexa.
To create a scene, follow these steps:
Open the Cocoon Connect Application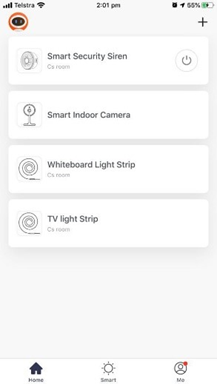 Select the Smart icon at the bottom of the screen.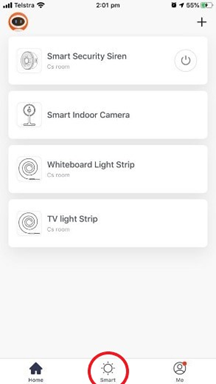 Select "Add Scenario" or the "+" button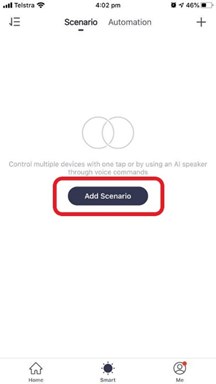 Edit the name and Picture for the Scene
Each of your Scenes can be named to suit their function.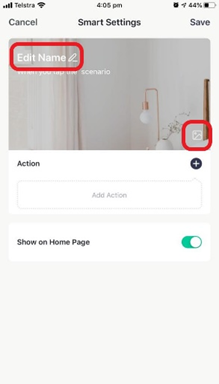 In this example we are going to call our Scene "Bright Lights". This will be a scene where our Smart LED Light Strip is going to be on White Mode for Five Minutes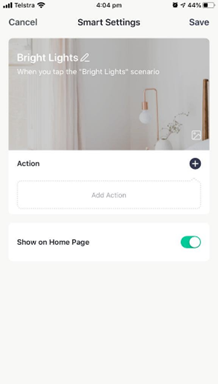 Add Actions for the Scene
Select the "Add Action" or "+" button to add actions for your scene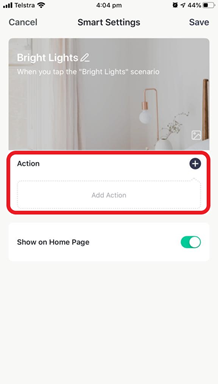 Action Options are as follows;
Enable or Disable Automation – This function allows you to start or stop any automations that you may have created. For instance, you may have an automation that turns the lights on and off if motion is detected. For the Bright Lights scene you may want to disable this automation for the duration.
Time Lapse – This function allows you to control a time period between actions. In our example we want our light to turn on bright for five minutes and then switch itself off.
Device – This function allows you to select one of your Cocoon Connect devices for an action. In this example we will select the Smart LED Light Strip only.
Smart LED Light Strip Functions are as follows;
Switch – Options to switch the Strip on or off.
Mode – Option to select what type of mode for the strip.
Colour – the last colour setting used by the strip
Scene – the last scene setting used by the strip
White – have the strip set to white mode
Enter these actions in individually with the Strip Switched On and set to White mode.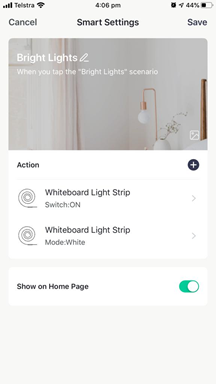 From there, enter a Time Lapse of 5 minutes followed by switching the Smart Strip Off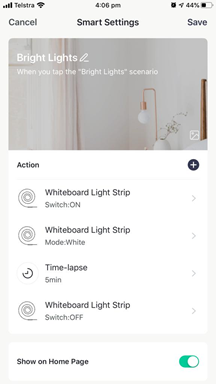 Select to have the Scene on your Home Page
Use the show on home page switch to have this Scene showing on your home page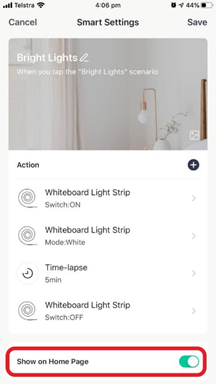 Once this is done, the Scene can be saved by selecting the Save button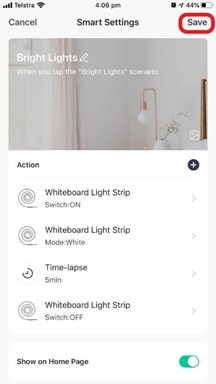 The Scene will now be displayed on your Home Page to be used as needed